My book reading
an evening to remember
I was asked recently, what's your goal when you write? It was an easy answer. 
To paraphrase Renessa Boley Layne's endorsement on the back cover of Lessons of a Wayward Yogini,
I want people to see their thoughts, feelings, and emotions reflected in my writing, validating that none of us are alone in this journey called life.
For many years I dreamed about what becoming an author might feel like. Truth? The reality paled in comparison to the dream, as so often happens. Don't get me wrong, the publishing of Lessons was great fun and my friends were beyond supportive.
But the reality of being a self-published author fell short… way short of the visions I created in my mind… chuckling to myself. After having achieved the goal of writing a book, a self-published author takes on a new job, promoting that baby and convincing others that you're worth the purchase. Yikes, skills I don't have in my wheelhouse, or even if I do, I don't care to use them. I just want to write.
A few months back, I decided to do just that: concentrate on my Substack publication in the hopes that I would attract readers not only to my weekly stories but to my book as well. Best decision I could have made in terms of my enjoyment.
And just about that time, Mickey asked me to stop in; she had an idea about promoting my book. What if we planned a book reading at Rosa-Lucca? It would be a reservation-only event, lite meal included along with a copy of the book. 
Well, YEAH, I was in.
My book reading took place on November 3rd at 5:30, and let me tell you, that evening lived up to my dream of what being a writer would feel like, from beginning to end. 
I, of course, had my trusted tribe helping Rick, Janet, and Lalo. We prepared the meal during the day and headed to the Rosa-Lucca tasting room at 4:00. From that point, they took on the duties of the meal, and I did a bit of pacing until our guests began to arrive.
We set aside about 45 minutes for people to check in, receive their books, get a glass of wine and appetizers and get their books signed. Mickey did a fantastic job with the appetizers and dessert. I was honored and a bit surprised to realize that there were so many people in attendance I did not know. Very exciting!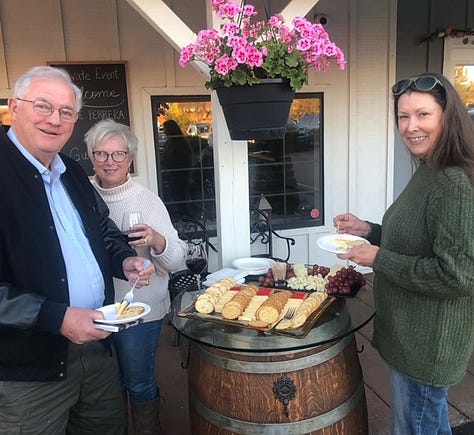 Once the happy half-hour concluded, with close to 30 people in the tasting room, space was limited, so I stayed in the back room as meals were passed out and the guests found their seats. Once everyone was seated, I made my way back into the tasting room.
I pay attention to nature always, especially at important times in my life. What's going on in the sky or on land? We are constantly receiving messages. The day Rick and I were married, the sky put on the most beautiful show at sunset, and a few deer attended the wedding. The book signing felt similar.
It was only a one-minute walk from the back door to the front door, but the sky demanded my attention. Streaks of pink layered the fading blue sky. I peeked back at the old dead oak, beautiful as ever in the sunset. I sent my thanks upward to my loved ones who felt ever so near.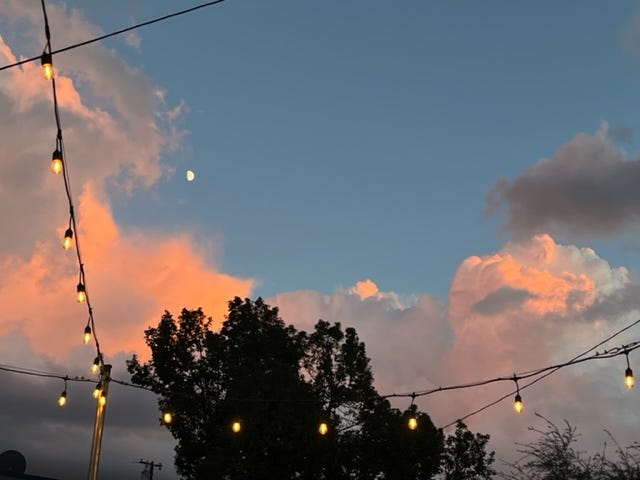 I entered the front door, ready, emotional but not really nervous. Perfect. I got comfortable on a stool in front of the long table.
The evening was destined to be a success by virtue of who was there and what they brought to the event.
I had my local cheerleader/angel Leah Ann Zogg who not only rallied the troops into attending but took it upon herself to speak at the reading about her experience reading my book/substack publication. I need to chat with her about becoming my pr agent.
As I said earlier, there were many people I didn't know from our area and some who traveled from Sacramento and Auburn; so humbling to meet all of them.
My buddies attended, their shining faces lifting me toward comfort, which is most important in these situations.
On my left, I had Kathy, who I had only met a few weeks prior (a post coming soon about our meeting).
I began with a disclaimer explaining that I likely was the most emotional person on the planet. I warned that I had selected a chapter about my mom to read. There wasn't a chance (in hell, I didn't say that) I'd get through it without crying. I informed them that they did not need to feel anxious or upset if I started crying while reading and that I was very used to crying in front of others. I got a laugh out of that, which felt good. I could have chosen an easier chapter to read, but since it's one of the most compelling chapters in the book, I wanted to share it.
I began my reading with a short section about my friend Peter, at the request of my friends Janet and Laurin, who couldn't be there because they were vacationing in Kauai. I welcomed their suggestion as it began the reading on a light note.
As I moved into Chapter 1, I wasn't one sentence in when my throat closed for the first time. (More about crying in my next post.) I made a joke and moved through it. I choked up off and on throughout the entire chapter, and toward the end, at one point, I had to admit to my guests that I couldn't see through my tears to read the words. Again we all laughed, and napkins made their way to me from all sides.
At the conclusion of my reading, when I looked up at the table, there were many tear-streaked faces, my version of a standing ovation.
Once my reading was done, I moved through the room, connecting with my guests.
There's a chapter in my book entitled What's Really Important, which tells the story of my time with Ron Martinez and his therapy groups. My book reading felt much like those meetings. People shared their emotions, tears and laughter, heartfelt hugs and hand-holding, validating that we're not alone in this journey.
At the night's end, Mickey's dear friend and cohort, Tim Smith (also known as Rosa-Lucca's favorite bartender), honored us with a song. He has a beautiful voice, sings in an a cappella group Basses Loaded. Tim unknowingly selected an old-time favorite song of mine from the movie White Christmas. In the film, Bing Crosby sings Count your Blessings Instead of Sheep to Rosemary Clooney. I'm here to tell you, Bing has nothing on Tim…
As the guests listened to Tim sing, the tears continued to flow in the loveliest of venues, Rosa-Lucca. I spied Rick in the corner, shaking his head in disbelief that Tim would select a random song that I just happen to love. These are the moments that leave me believing in a higher power. You can view a video of Tim singing on my FB page here, scroll to November 7.
From beginning to end, the evening felt magical, and lived up to my original dream in every way possible; actually, it surpassed it. How lucky am I?
Thank you to all who attended, to Mickey and Tim, Rick, Janet, and Lalo, and to all my loved ones in the heavens, especially Ron Martinez, and to all those who continue to lift me as I venture forward with my writing.